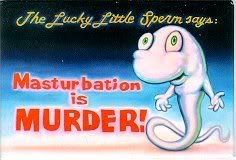 Health Care Summit = Public Masturbation
The problem is this: everyone knew that this summit would accomplish absolutely nothing.
President Obama saw a chance to paint Republicans as "obstructionists" and Republicans saw a chance to air their grievances in a nationally televised forum. What neither side saw was an opportunity to actually find common ground.
I don't blame the Republicans, I actually admire them. They went into this fully knowing that they were walking into a trap. I think they held their own and may have actually gained a few points politically.
That does not change the fact that taxpayers just wasted an enormous sum of money to watch their elected leaders indulge in what is effectively public masturbation. It was all self satisfying, feel good nonsense that had zero chance of producing a viable offspring (masturbation).
The only good thing to come of this, if anything, were a few good sound bites that will no doubt appear ad naseum throughout the campaign season. I can hardly wait. I had to drink a pot of coffee and a two liter of Pepsi just to make it through this field of meadow muffins the first time.
The one thing that this waste of time did confirm is that the Democrats are definitely going to use the nuclear option come next week. That's my prediction and pretty sure I'm right. Obama made enough overt allusions to that fact and none of the Democrats were willing to take the option off the table. Not to mention the story that appeared on Politico stating they were going to use reconciliation after testing the waters:
After a brief period of consultation following the White House health reform summit, congressional Democrats plan to begin making the case next week for a massive, Democrats-only health care plan, party strategists told POLITICO.


A Democratic official said the six-hour summit was expected to "give a face to gridlock, in the form of House and Senate Republicans."


Democrats plan to begin rhetorical, and perhaps legislative, steps toward the Democrats-only, or reconciliation, process early next week, the strategists said.


After the summit, House Speaker Nancy Pelosi and Senate Majority Leader Harry Reid planned to take the temperature of their caucuses.


"The point [of the summit] is to alter the political atmospherics, and it will take a day or two to sense if it succeeded," the official said.
Read the rest of the story
HERE
For those of you who missed them here are some of the more notable quotes from the Health Care summit (according to Reuters anyway):
PRESIDENT BARACK OBAMA
"What I'm hoping to accomplish today is for everybody to focus not just on where we differ, but focus on where we agree."
"And then let's talk about some areas where we disagree and see if we can bridge those gaps. I don't know that those gaps can be bridged."
REPUBLICAN SENATOR JOHN MCCAIN
"Both of us ... promised 'change in Washington.'... Eight times you (Obama) said negotiations on healthcare reform would be conducted before C-Span cameras. I'm glad, more than a year later, that they are here."
"Unfortunately, this product was not produced in that fashion. It was produced behind doors."
SENATE DEMOCRATIC LEADER HARRY REID
"Harvard just completed a study that shows 45,000 Americans die every year because they don't have health insurance, almost 1,000 a week in America."
REPUBLICAN REPRESENTATIVE CHARLES BOUSTANY
"We all agree on prohibiting insurance companies from arbitrarily canceling insurance policies. That's a no-brainer. There's strong agreement on both sides of the aisle."
DEMOCRATIC REPRESENTATIVE LOUISE SLAUGHTER
"I even have one constituent -- you will not believe this, and I know you won't, but it's true -- her sister died. This poor woman had no denture. She wore her dead sister's teeth, which of course were uncomfortable and did not fit."
REPUBLICAN SENATOR LAMAR ALEXANDER
"With respect, you (Obama) are wrong about your bill. It would increase premiums, I believe."
Alexander also urged Democrats not to resort to a rarely used procedure that would allow them to avoid a Senate Republican procedural roadblock.
"You can say that this process has been used before, and that would be right. But it's never been used for anything like this." Alexander quoted Democratic Senator Robert Byrd's description of the process as ramming the bill through like "'a freight train.'"
DEMOCRATIC SENATOR CHARLES SCHUMER
"You can't just get up there and say we don't want to cut anything out of Medicare. We want to cut the bad stuff and keep the good stuff. And I think that's where we can find common ground."
SENATE REPUBLICAN WHIP JON KYL
"There are some fundamental differences between us here that we cannot paper over. We do not agree about the fundamental question about who should be mostly in charge."
"There's so much in the bills that you've supported that puts control in Washington that we have a very difficult time supporting those provisions."
REPUBLICAN SENATOR TOM COBURN
"The government now directs over 60 percent of the healthcare in this country. And if throwing money at it and creating new government programs could solve it, we wouldn't be sitting here today because we've done all that. It hasn't worked."
DEMOCRATIC SENATOR MAX BAUCUS
"We basically know what the problems are, all of us. We basically know that the current system is unsustainable."
"We are actually quite close -- there's not a lot of difference..."
"We are on the verge and the cusp, with not too much effort, to try to bridge a lot of gaps here, because the gaps, in my judgment, are not that great."
HOUSE REPUBLICAN WHIP ERIC CANTOR
"We can't afford this. That is the ultimate problem here." (Reporting by Thomas Ferraro, David Morgan and Donna Smith; editing by Anthony Boadle)